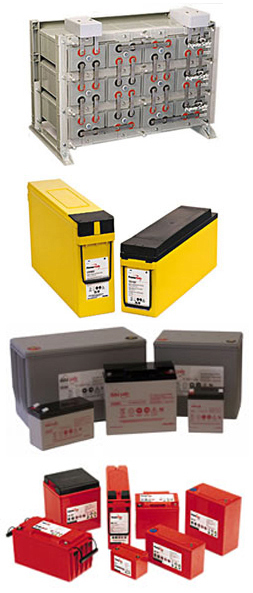 Features
ESS offers a complete line of Valve Regulated Lead Acid (VRLA) and Flooded (Wet Cell) Reserve Power Batteries for use by UPS, Telecom, Data-Com, and Utility markets.
We partner with "Best in Class" manufacturers such as Enersys, East Penn, CSB and C&D Technologies. With master distributor status, we stock a large inventory of common (and not so common) batteries. Our prices for high rate UPS- VRLA Batteries are extremely competitive. Our prices combined with extended replacement warranty (offered with ESS service agreements) offers customers the best value for their investment dollar.
Same day shipping is available for the most common batteries
We stock most batteries in the Enersys Datasafe HX series for quick shipping and installs
Contact Us
Please contact us at 972-272-2468 or email sales@ess.to for price, size and availability of ESS Battery Inventory, and other brands offered.
UPS Battery Comparison Matrix
Model
Wt.
Dimensions in Inches
H x W x L
Block Voltage
15 Min. Rate to 1.67 VPC @ 77F
Terminal Position
Enersys
HX205
43.0 lbs
8.20 x 5.50 x 9.00
12V
204 wpc
Top Terminal
East Penn
45HR2000
40.0 lbs
8.27 x 5.47 x 8.99
12V
168 wpc
Top Terminal
C&D
UPS12-210MR
40.0 lbs
8.07 x 5.48 x 9.00
12V
206 wpc
Top Terminal
CSB
HRL12200W
38.8 lbs
8.16 x 5.45 x 8.97
12V
200 wpc
Top Terminal
Leoch
XP12-210
38.1 lbs
7.99 x 5.43 x 9.00
12V
225 wpc
Top Terminal
Fiamm
12FLX200
39.2 lbs
8.35 x 5.43 X 9.06
12V
225 wpc
Top Terminal
Enersys
HX300
60.0 lbs
8.30 x 6.90 x 10.30
12V
284 wpc
Top Terminal
East Penn
HR3000
61.0 lbs
8.24 x 6.56 x 10.20
12V
310 wpc
Top Terminal
C&D
UPS12-300MR
58.4 lbs
8.01 x 6.83 x 10.27
12V
300 wpc
Top Terminal
GNB/Exide
S12V285
61.0 lbs
8.80 x 6.85 x 10.21
12V
285 wpc
Top Terminal
GNB/Exide
S12V300
63.0 lbs
8.80 x 6.85 x 10.21
12V
306 wpc
Top Terminal
Northstar
NSB12-310
57.0 lbs
7.90 x 6.80 x 10.30
12V
310  wpc
Top Terminal
CSB
HRL12280W
56.4 lbs
8.43 x 6.63 x 10.28
12V
283 wpc
Top Terminal
Leoch
XP12-300
52.5 lbs
8.31 x 6.61 x 10.20
12V
324 wpc
Top Terminal
Leoch
XVP12-280
49.6 lbs
8.39 x 6.61 x 10.20
12V
280 wpc
Top Terminal
Leoch
XVP12-300
53.4 lbs
8.39 x 6.61 x 10.20
12V
300 wpc
Top Terminal
Enersys
HX330
71.0 lbs
8.40 x 6.90 x 12.00
12V
336 wpc
Top Terminal
East Penn
HR3500
71.0 lbs
8.24 x 6.56 x 12.01
12V
370 wpc
Top Terminal
C&D
UPS 12-350MR
67.4 lbs
8.06 x 6.83 x 12.04
12V
350 wpc
Top Terminal
GNB/Exide
S12V370NG
69.0 lbs
8.78 x 6.77 x 12.14
12V
373 wpc
Top Terminal
CSB
HRL 12330W
65.5 lbs
8.44 x 6.65 x 12.15
12V
340 wpc
Top Terminal
CSB
XHRL12360W
62.4 lbs
8.41 x 6.63 x 10.28
12V
360 wpc
Top Terminal
Leoch
XP12-350
60.4 lbs
8.27 x 6.61 x 12.00
12V
370 wpc
Top Terminal
Leoch
XVP12-330
58.4 lbs
8.43 x 6.61 x 12.00
12V
330 wpc
Top Terminal
Leoch
XVP12-330Z
60.6 lbs
8.50 x 6.81 x 13.00
12V
330 wpc
Top Terminal
Leoch
XVP12-340
61.7 lbs
8.50 x 6.81 x 13.00
12V
340 wpc
Top Terminal
Leoch
XVP12-350
61.3 lbs
8.43 x 6.61 x 12.00
12V
350 wpc
Top Terminal
Leoch
XVP12-360
64.8 lbs
8.50 x 6.81 x 13.00
12V
360 wpc
Top Terminal
Fiamm
12FLX300
58.3 lbs
8.58 x 6.85 x 10.27
12V
340 wpc
Top Terminal
Enersys
HX400
80.0 lbs
8.50 x 6.80 x 13.40
12V
381 wpc
Top Terminal
Enersys
12XE760-FR
77.4 lbs
8.60 x 6.80 x 13.00
12V
390 wpc
Top Terminal
East Penn
HR4000
80.0 lbs
8.70 x 6.84 x 12.93
12V
420 wpc
Top Terminal
C&D
UPS 12-400MR
75.8 lbs
8.52 x 6.80 x 13.42
12V
400 wpc
Top Terminal
Northstar
NSB12-425
76.0 lbs
8.40 x 6.80 x 13.40
12V
423 wpc
Top Terminal
CSB
HRL 12390W
72.8 lbs
8.57 x 6.69 x 13.46
12V
398 wpc
Top Terminal
CSB
XHRL12410W
71.9 lbs
8.41 x 6.65 x 12.15
12V
410 wpc
Top Terminal
Leoch
XP12-400
69.2 lbs
8.50 x 6.69 x 12.80
12V
430 wpc
Top Terminal
Leoch
XVP12-400
66.6 lbs
8.50 x 6.81 x 13.00
12V
400 wpc
Top Terminal
Leoch
XVP12-450
68.8 lbs
8.50 x 6.81 x 13.00
12V
450 wpc
Top Terminal
Fiamm
12FLX350
67.5 lbs
8.58 x 6.85 x 11.87
12V
390 wpc
Top Terminal
Fiamm
12FLX400
73.3 lbs
8.46 x 6.85 x 13.31
12V
415 wpc
Top Terminal
Enersys
HX505
110.0 lbs
10.80 x 6.80 x 13.40
12V
506 wpc
Top Terminal
C&D
UPS 12-490MR
100.0 lbs
10.93 x 6.80 x 13.57
12V
488 wpc
Top Terminal
East Penn
31HR5000
98.0 lbs
11.20 x 6.77 x 13.36
12V
475 wpc
Top Terminal
CSB
XHRL12475W
79.8 lbs
8.53 x 6.69 x 13.50
12V
475 wpc
Top Terminal
CSB
HRL 12500W
100.8 lbs
10.93 x 6.69 x 13.50
12V
503 wpc
Top Terminal
Leoch
XP12-490
77.2 lbs
8.50 x 6.89 x 13.43
12V
490 wpc
Top Terminal
Leoch
XP12-490LP
92.7 lbs
10.94 x 6.77 x 13.19
12V
491 wpc
Top Terminal
Fiamm
12FLX500
93.6 lbs
10.87 x 6.85 x 13.31
12V
502 wpc
Top Terminal
Enersys
HX540
111.0 lbs
10.80 x 6.80 x 13.40
12V
540 wpc
Top Terminal
Enersys
12XE1040-FR
97.0 lbs
10.80 x 6.80 x 13.30
12V
560 wpc
Top Terminal
C&D
UPS 12-540FR
100.0 lbs
10.93 x 6.80 x 13.57
12V
537 wpc
Top Terminal
C&D
UPS 12-600MR
109.0 lbs
10.81 x 6.80 X 13.57
12V
601 wpc
Top Terminal
East Penn
HR5500
107.0 lbs
11.21 x 6.77 x 13.46
12V
550 wpc
Top Terminal
GNB/Exide
S12V550NG
99.0 lbs
10.91 x 6.77 x 13.27
12V
550 wpc
Top Terminal
Northstar
NSB12-540
99.0 lbs
10.80 x 6.80 x 13.60
12V
540 wpc
Top Terminal
CSB
HR12540W
96.7 lbs
10.85 x 6.69 x 13.50
12V
540 wpc
Top Terminal
CSB
XHRL12620W
104.1 lbs
10.85 x 6.69 x 13.50
12V
620 wpc
Top Terminal
Leoch
xp12-540
93.5 lbs
10.94 x 6.77 x 13.19
12V
539 wpc
Top Terminal
Fiamm
12FLX540
98.0 lbs
10.87 x 6.85 x 13.31
12V
570 wpc
Top Terminal
Enersys
HX800
80.0 lbs
8.50 x 6.80 x 13.40
6V
780 wpc
Top Terminal
C&D
UPS 6-620FR
72.0 lbs
9.96 x 6.83 x 12,51
6V
620 wpc
Top Terminal
GNB/Exide
S6V740NG
63.0 lbs
8.78 x 6.77 x 12.14
6V
746 wpc
Top Terminal
Leoch
XP6-620
60.2 lbs
9.09 x 7.00 x 12.77
6v
681 wpc
Top Terminal
East Penn
HR3500ET
80.0 lbs
9.09 x 4.35 x 19.44
12v
370 wpc
Front Terminal
C&D
UPS12-355FRM
80.0 lbs
9.30 x 4.30 x 20.10
12V
358 wpc
Front Terminal
C&D
UPS12-410MRF
81.8 lbs
9.30 x 4.30 x 20.10
12V
410 wpc
Front Terminal
Leoch
PLX12-400FT
69.5 lbs
11.30 x 4.25 x 15.64
12V
405 wpc
Front Terminal
Northstar
NSB12-450RT
87.0 lbs
9.10 x 4.90 x 22.00
12V
484 wpc
Front Terminal
Enersys
12XE1010F-FR
107.4 lbs
11.10 x 4.90 x 22.10
12V
566 wpc
Front Terminal
East Penn
HR5500ET
120.0 lbs
11.75 x 4.97 x 22.00
12V
550 wpc
Front Terminal
Enersys
12XE1110F-FR
114.0 lbs
11.10 x 4.90 x 22.10
12V
649 wpc
Front Terminal
C&D
UPS12-615MRF
115.0 lbs
11.14 x 4.95 x 22.01
12V
614 wpc
Front Terminal
Northstar
NSB12-650RT
118.0 lbs
11.10 x 4.90 x 22.00
12V
649 wpc
Front Terminal
Leoch
PLX12-600FT
104.7 lbs
10.24 x 4.92 x 22.13
12V
600 wpc
Front Terminal
Enersys
12XE1150F-FR
129.2 lbs
12.4 x 4.90 x 22.10
12V
706 wpc
Front Terminal
C&D
UPS12-700MRF
131.0 lbs
12.60 x 4.95 x 22.01
12V
697 wpc
Front Terminal
Northstar
NSB12-730RT
137.0 lbs
12.6 x 4.90 x 22.00
12V
728 wpc
Front Terminal
Leoch
PLX12-700FT
132.3 lbs
12.60 x 4.92 x 22.10
12V
700 wpc
Front Terminal
Fiamm
12FLX700
134.0 lbs
12.64 x 4.96 x 21.97
12V
702 wpc
Front Terminal
East Penn
HR7500ET
150.0 lbs
12.74 x 4.90 x 24.00
12V
750 wpc
Front Terminal
East Penn
HT7500ET
151.0 lbs
12.74 x 4.97 x 24.00
12V
750 wpc
Front Terminal
C&D
UPS12-1000MRXF
188.0 lbs
12.70 x 6.10 x 22.00
12V
1000 wpc
Front Terminal
Enersys
12HX680F-FR
148.0 lbs
9.70 x 8.40 x 21.30
12V
680 wpc
Front Terminal
East Penn
4DHR6500
129.0 lbs
9.23 x 8.43 x 20.77
12V
625 wpc
Front Terminal
East Penn
HR7000ET
144.0 lbs
9.35 x 8.43 x 20.77
12V
700 wpc
Front Terminal
C&D
UPS12-745MRF
160.3 lbs
10.00 x 8.70 x 21.12
12V
734 wpc
Front Terminal
Interstate
12MJ4500F
152.0 lbs
10.10 x 8.44 x 20.99
12V
742 wpc
Front Terminal
Enersys
16HX550F-FR
151.0 lbs
12.30 x 4.60 x 27.20
16V
550 wpc
Front Terminal
Enersys
16HX800F-FR
232.0 lbs
12.30 x 7.00 x 27.20
16V
800 wpc
Front Terminal
Enersys
16HX925F-FR
248.0 lbs
12.30 x 7.00 x 27.20
16V
900 wpc
Front Terminal